iAutoFocus™ provides the power to easily manage all aspects of collision repair from tracking sales and production to job costing, invoicing, repair notes, cycle times, employee efficiency, profit margins and claim processing. With AutoFocus you get an ALL-INCLUSIVE, cost effective software system for any size shop, and even the most demanding enterprise that requires customization.
Estimates - Import and track estimates with 100% matching to all estimatingsystems!
Scheduling - Graphical, color listing of production capacity with load levels and presets to ensure consistent sales and production levels!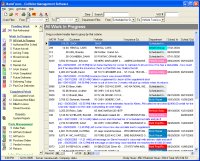 Work Orders - Easy-to-follow worksheets withprint options for every labor type!
Production - Maintain a visual perspective of all jobs to track work flow, technicians, sublets, parts, returns, credits, purchase orders, vendor invoices, supplements, billing, claim status, and communications!
Cycle Time - Tools to schedule jobs according to shop resources and production capability in order to proactively manage delays and ensure complete customer satisfaction!
Parts - Fully automated parts management to send PO's via e-mail or FAX, and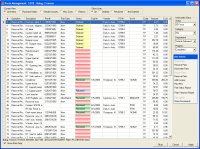 tools to track due dates, returns, credits and supplements!
Labor - Flexible labor-costing and team tracking tools to improve cycle times, labor efficiency, and payroll flagging!
Time Clock - Time clock included for added efficiency and technician convenience!
Receivables - Receivable aging, statements and collection tools to follow-up on unpaid balances!
Follow Ups - Create form letters to follow-up on estimates, sales promotions, and for thank you letters etc!
Communication - With WEBVIEW service the job status, images, and service notes are automatically linked to the body shop's own web site, for the benefit of customers and adjusters to view online!
Notes - Internal notes are time and date stamped and can be readily viewed by all office staff to improve communication!
Documents & Images - Go "paperless" with scanned estimates, notes, images, invoices, and other signed documents that can then be stored with the RO, archived and retrieved when necessary!
CSI - Track customer satisfaction with CSI files that can be printed or extracted for a research company!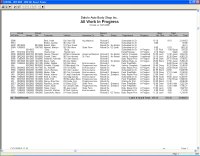 Reporting - Tools to track sales, closing ratios, assignments, production, finances, efficiencies, and other KPI's to benchmark for success and to proactively provide 100% customer service!
Profit & Loss - iAutoFocus provides for realtime tracking of income and costs in order to know the score as it relates to every aspect of your business!
Single & Multi Location - iAutoFocus is Windows (Vista) compatible for small shops or across shared networks for multi-user and multi-location operators!